We all know how the iPad 2 has improved a lot over the original iPad when it comes to aesthetics right? The slimmer profile, the inclusion of cameras, the speaker grate, they all were a good upgrades from the first iPad. But what not a lot of people know is how much improvement it got under the hood.
When the iPad 2 was announced, we only have the official iPad site as reference for the technical specs. And the only thing we got there was the 1GHz dual-core Apple A5 processor powering it which is already a significant upgrade from the A4 chip.
Now the iPad 2 is already available in public, we can now confirm the missing pieces. The iPad 2 also has a dual-core version of the PowerVR's SGX543MP2 graphics chip which is a major leap from the old SGX535. It is also confirmed that the RAM is now 512MB DDR2 instead of 256MB DDR. Another thing to mention about the A5 chip is that it has a dynamically set clock speed which varies depending on the application being run.
What does this all mean? The iPad 2 runs much faster, can handle multitasking better, and games look much better thanks to more processing power for the graphics as compared to the original iPad.
Here's a test done by AnandTech using SunSpider javascript benchmark on the original iPad, Motorola Xoom and the iPad 2.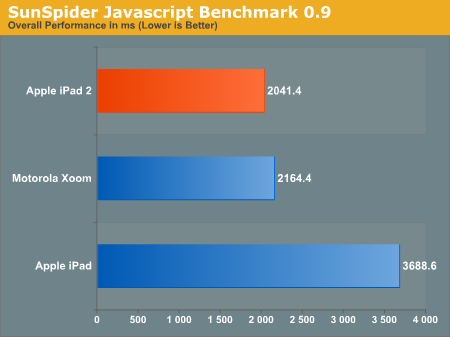 You can also see Page Loading tests they did on different sites and iPad 2 proves to be much faster.
How about graphics? AnandTech also did a GLBenchmark 2.0 test on the three tablets and iPad 2 wins by a good margin.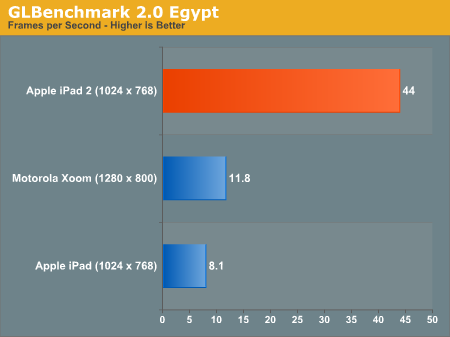 Due to better GPU, the iPad 2 can now deliver higher framerate, higher resolution textures and anti-aliasing for games that demands it. Check out this AnandTech Gallery showing you some side-by-side screenshot comparison of Infinity Blade on both iPad 1 and iPad 2. It's good!
So, still not yet decided if you're going to get an iPad 2?